The Artist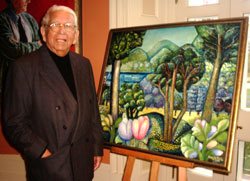 Osvaldo Reyes, was considered an exponent of the social realism, sometimes getting closer to surrealism and symbolic realism. He forms part of the generation of the 40's and has been strongly influenced by Mexican and French painting. A well-known Chilean arts critic, theteacher Víctor Carvacho, defined him as "a genuinely Chilean artist, and an academician who, like others, has known how to break from the rules of academy".
Born in Santiago in 1919, Reyes is son of a railway worker and a mother who worked as a retail seller. The early death of his father forced him to work from the early age of 10 years old to help support his mother and seven brothers, while at the same time going on with his studies. In the primary school he stood out for his talent to draw. This talent was further developed in the Normal School and flourished in the School of Fine Arts.
Under the direction of the painter Laureano Guevara, he painted the mural "La Ronda", inspired by Gabriela Mistral's poem. With this work he gained a scholarship from the government of Mexico and the University of Chile, which allowed him to travel to Mexico to study with the great muralists. "La Ronda", a
work of great movement, colour and luminosity, where schools girls dance barefoot, remains to in the "Ciudad del Niño" in Santiago. In Mexico he
had renowned teachers such as: David Alfaro Siqueiros, Diego Rivera, Federico Cantú, Francisco de la Maza, José Gutiérrez and Raúl Anguiano. He studied in the School of Painting and Sculpture of the National Autonomous University
of Mexico, created by Diego Rivera, and was invited by the Nobel Prize Winner for Literature, Gabriela Mistral, to live for a period in her residence in Veracruz and work as an advisor. Mistral's poetry had a great influence on Osvaldo Reyes artistic development.
On his return to Chile, he began teaching and continued with his work as a muralist. Two award winning Chilean artists, Anita Cortés and Laureano Guevara, were important influences on Osvaldo's development, as well as Armando Lira, Oscar Gacitúa, Armando Sanchez and Augusto Eguiluz.
At the time of the 1973 military coup, which overthrew the government of President Salvador Allende, Osvaldo Reyes was the director of the Experimental Artistic School in Chile. Removed from his position by the military, Osvaldo Reyes
departed for the second time in his life for Mexico. This time with four of his five children and his wife –who accompanied him during all his life– Carmen Espinoza. There he taught for 10 years in the "Academia San Carlos" of the National Autonomous University of Mexico. In 1988 he moved to Canada, a country that he and his family have adopted as his second mother and. There, in his workshop in Toronto, he devoted himself with great intensity to the artistic work, working mostly with oil painting and drawing with Chinese ink. He is a permanent exhibitor in Ontario Arts Gallery and has presented his works in York University, Toronto. During his residence in Mexico, he has also
exhibited in the Room of Modern Arts and in the
Graduates' School. He has not lost contact with his mother land: he donated an oil painting to Project Adrianne. In the implementation of this project, the National Library of Canada and the Direction of Libraries, Archives and Museums of Chile have joined efforts to rescue and bring back to Chile the works of Chilean artists who went into exile in Canada after the September 11, 1973 coup. He also took part in the exhibit "Memory and Hope of the Human Rights in Chile. 30 years after the military coup", organized by the Museum of the Solidarity Salvador Allende. The paintings displayed at the Museum of Contemporary Art highlight the contradiction between nostalgia for a distant mother land, in coexistence with the sensibilities of the immigrant; one who faces new realities and fluctuates between amazement, euphoria and uncertainty. With strong lines, intense colours, luminous energy and drawings of great size, which reflect the Mexican school where he developed as an artist, Reyes is an original artist, one who simultaneously surprises and captivates. The MAC exhibition presented new seductive themes: nature, which emerges with energy in each lines of his work; the pain of exile, which can be seen
in a Christ reinterpreted like a Latin American indigenous man; and the great diversity of races, peoples, languages and colours that make up the country where he now lives, Canada. Chile appears in a fruit bowl of Pomaire's ceramic, as Reyes remembers it from Toronto, or in the swimmers of Valparaiso. In the distance, sometimes, things are seen with greater clarity, and the major forms stand out. Also present, in an almost sensual form, is the nature of Canada, wild and exuberant, with forests even beyond the horizon; and the nature
of Chile and Mexico, with the flowers that Reyes takes to Toronto.
The colours of Mexico stand out in his palette, a palette that Reyes employs in a meticulous and methodical way, fusing the colours into his own personal rainbow, which can be seen as a series of flowers, some of which will be in the exhibition at the Museum. He uses colour to give light and shade, creating a special aura in his oils.
In his work there are special portraits, rural and urban landscapes and still-lives. The current artistic proposal of Reyes is focused on the need to preserve nature, threatened by the predatory style of our development. The vegetation, the colour of hope, friendly and magnificent, is the pillar of his aesthetic paradigm. In 1987, the great Mexican painter Raul Anguiano eloquently described Reyes' work: "I have followed closely Osvaldo Reyes's evolution and I see clearly that his personal style places him between Latin American teachers such as Guayasamin, Amelia Perez or Portinari, with a touch of modernity that connects him with Léger and the German expressionists. It is clear that his long stay in Mexico as painter and teacher has added the graphical features of the Mexican teachers to his painting." One of the most important critics of Chilean art, the teacher Victor Carvacho, wrote in 1993: "Osvaldo Reyes approaches the topics with social realism, without the virulence of the Mexicans. He is an original painter, a genuinely Chilean artist, and an academician who, like others, has known how to break from the rules of academy. In his recent, very interesting work, the vegetation and the foliage invade the canvas in an amazing composition, and Reyes becomes a poet who praises nature."
The talented Chilean painter Carmen Cereceda, who was assistant to Diego Rivera and whose work has been praised in Mexico where she lives, and who also practiced teaching in Canada, says
that "Osvaldo Reyes has a style in the expressionism, marked by symbolic Latin American features". She says that Reyes produces works that represent a "spiritual contrast between the reality and the fantasy in his creative process, generating what we observe in his work: a synthesis between these twopoles".